American Civil War Prisoner of War Camps Map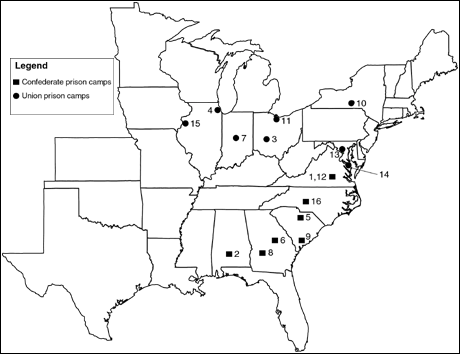 Courtesy Andersonville National Historic Site, National Park Service
Union and Confederate Civil War prison camps: Detailed List of POW Camps

1. Bell Isle—Richmond, Virginia
2. Cahaba Prison—Cahaba, Alabama
3. Camp Chase—Columbus, Ohio
4. Camp Douglas—Chicago, Illinois
5. Camp Florence—Florence, South Carolina
6. Camp Lawton—Millen, Georgia
7. Camp Morton—Indianapolis, Indiana
8. Camp Sumter—Andersonville, Georgia

9. Castle Pickney—Charleston, S.C.
10. Elmira Prison—Elmira, New York
11. Johnson's Island—Sandusky, Ohio
12. Libby Prison—Richmond, Virginia
13. Old Capitol Prison—Washington, D.C.
14. Point Lookout—Point Lookout, MD.
15. Rock Island—Rock Island, Illinois
16. Salisbury—Salisbury, North Carolina
Advance to:
Recommended Viewing: The Andersonville Trial (Andersonville Prisoner of War Camp) on DVD; 141 Minutes (see review below)
Review:
A court-martialed Confederate officer faces trial for running the notorious prison of war camp in Andersonville, Georgia, where over 14,000 Union prisoners died from disease, starvation and neglect. The defendant, Captain Henry Wirz, justified his actions with a plea that he was only following orders, believing he was relieved of any personal responsibility because he was performing his duty. However, the Army prosecutor contends that moral men must rebel against barbaric or inhumane orders, even if they are within the framework imposed by military discipline. A powerhouse courtroom drama in the style of Inherit the Wind, A Few Good Men and The Caine Mutiny. With an all-star cast includes William Shatner ("Star Trek"), Martin Sheen ("The West Wing"), Cameron Mitchell ("Carousel"), Richard Baseheart ("Being There"), Jack Cassidy ("The Eiger Sanction"), Buddy Ebsen ("The Beverly Hillbillies") and Alan Hale ("Gilligan's Island"). Directed by the celebrated George C. Scott ("Patton"), who starred in the original 1959 Broadway production. Winner of Three 1971 Emmy Awards: Outstanding Single Program, Drama or Comedy / Outstanding Writing Achievement in Drama, Adaptation / Outstanding Achievement in Technical Direction and Electronic Camerawork. Rare photos.
Try the Search Engine for Related Studies: List of American Civil War Prisoner of War Camps History, Picture, Photograph, and Photos: Andersonville, Prisoner of War Camp Douglas, Camp Morton, Elmira Prison, Point Lookout, Johnson's Island, Rock Island, Libby Prison.