Civil War Generals
Civil War Generals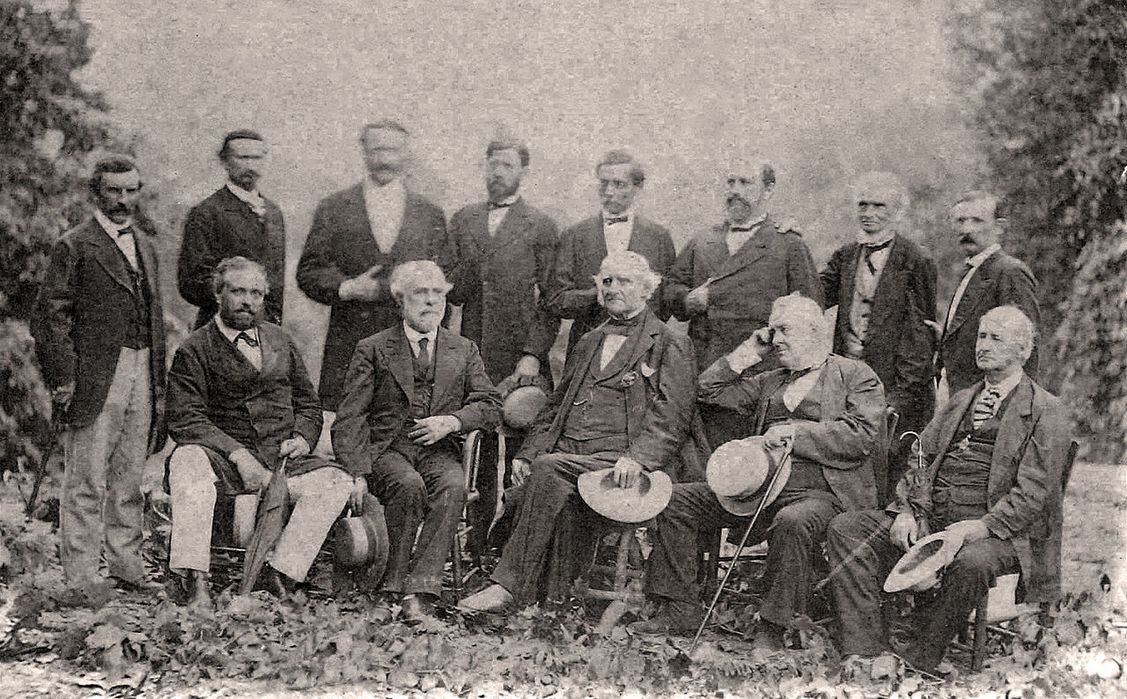 American Civil War Generals*
American Civil War generals
(L) General Rosecrans; (R) General Bragg
More than 1,000 Union and Confederate generals fought and served during the course of the Civil War. Whether Union or Confederate, each general considered himself an American, and each fought for his ideals and beliefs during America's darkest hour. The generals, moreover, were not immune from death or wounds. These men, whether Rebel or Yankee, truly led by example and their respective military service records confirm it. North Carolina, for instance, lost nearly 1 in 3 of its generals in killed or wounded, and it was the highest loss for any state in America.
In the below list of generals, the following information is provided: biography (some generals include two or more biographies), history, photographs, pictures, historical markers, paintings, monuments, and Union and Confederate compiled military service records (CMSR). (Includes some previously rare non-published material.) In addition, as time permits, the webmaster and editors will be adding previously non-published material, so you are encouraged to bookmark for updates.
Civil War generals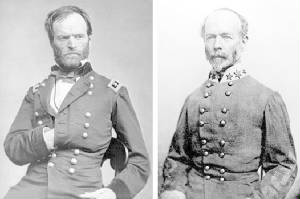 (L) Maj. Gen. William T. Sherman; (R) Gen. Joseph E. Johnston
*About the American Civil War Generals. Photo of General Robert E. Lee and his Confederate generals in their first meeting since the surrender at Appomattox. General Lee and the former Confederates were at White Sulphur Springs, West Virginia, in August 1869, where they met to discuss the orphaned children of the Civil War. This is the only photograph in existence of Lee with his generals. Left to right standing: General James Conner, General Martin Witherspoon Gary, General John B. Magruder, General Robert D. Lilley, General P. G. T. Beauregard, General Alexander Lawton, General Henry A. Wise, General Joseph Lancaster Brent. Left to right seated: Blacque Bey (Turkish Minister to the United States), General Robert E. Lee, Philanthropist George Peabody, Philanthropist William Wilson Corcoran, James Lyons (Virginia).
Recommended Reading: Generals in Gray: Lives of the Confederate Commanders. Description: When Generals in Gray was published in 1959, scholars and critics immediately hailed it as one of the few indispensable books on the American Civil War. Historian Stanley Horn, for example, wrote, "It is difficult for a reviewer to restrain his enthusiasm in recommending a monumental book of this high quality and value." Here at last is the paperback edition of Ezra J. Warner's magnum opus with its concise, detailed biographical sketches and—in an amazing feat of research—photographs of all 425 Confederate generals. Continued below.
The only exhaustive guide to the South's command, Generals in Gray belongs on the shelf of anyone interested in the Civil War. Each Union and Confederate biography serves as an indispensable reference. RATED 5 STARS!
Recommended Reading: Generals in Blue: Lives of the Union Commanders (Hardcover). Description: More than forty years after its original publication, Ezra J. Warner's Generals in Blue is now available in paperback for the first time. Warner's classic reference work includes intriguing biographical sketches and a rare collection of photographs of all 583 men who attained the rank of general in the Union Army. Here are the famous West Point graduates and the political appointees; the gifted, the mediocre, and the inexcusably bad; those of impeccable virtue and those who abused their position; the northern-born, the foreign-born, and the southerners who remained loyal to the Union.
Warner's valuable introduction discusses the criteria for appointment and compares the civilian careers of both Union and Confederate generals, revealing striking differences in the two groups. A rare picture or photograph is priceless...Generals in Blue is that rare book—an essential volume for scholars, a prized item for buffs, and a biographical dictionary that the casual reader will find absorbing.
Recommended Reading: Battles and Leaders of the Civil War, Volume 6 (Battles & Leaders of the Civil War) (632 pages) (University of Illinois Press) (May 30, 2007). Description: Sifting carefully through reports from newspapers, magazines, personal memoirs, and letters, Peter Cozzens' Volume 6 brings readers more of the best first-person accounts of marches, encampments, skirmishes, and full-blown battles, as seen by participants on both sides of the conflict. Continued below...
Alongside the experiences of lower-ranking officers and enlisted men are accounts from key personalities including General John Gibbon, General John C. Lee, and seven prominent generals from both sides offering views on "why the Confederacy failed." This volume includes one hundred and twenty illustrations, including sixteen previously uncollected maps of battlefields, troop movements, and fortifications.
Recommended Reading: Rebels and Yankees: Commanders of the Civil War (Hardcover), by William C. Davis (Author), Russ A. Pritchard (Author). Description: Davis and Pritchard have created a wonderful work that is sure to become a hit with anyone who studies the Civil War. This book uses words and a generous amount of pictures and photographs to tell the story of the leaders, both talented and flawed, that held together the two struggling armies in a time of chaos and devastating loss. Continued below.
Although many of the stories have been told in one form or another.... Commanders compiles this study in a single book that makes it very easy to compare and contrast the styles and techniques employed by officers of both armies. With this book, the reader will have a greater appreciation for both the Yankee and Rebel general and their respective contributions...I thoroughly enjoyed the book and highly recommend it.
Recommended Reading: Civil War High Commands (1040 pages) (Hardcover). Description: Based on nearly five decades of research, this magisterial work is a biographical register and analysis of the people who most directly influenced the course of the Civil War, its high commanders. Numbering 3,396, they include the presidents and their cabinet members, state governors, general officers of the Union and Confederate armies (regular, provisional, volunteers, and militia), and admirals and commodores of the two navies. Civil War High Commands will become a cornerstone reference work on these personalities and the meaning of their commands, and on the Civil War itself. Continued below...
Errors of fact and interpretation concerning the high commanders are legion in the Civil War literature, in reference works as well as in narrative accounts. The present work brings together for the first time in one volume the most reliable facts available, drawn from more than 1,000 sources and including the most recent research. The biographical entries include complete names, birthplaces, important relatives, education, vocations, publications, military grades, wartime assignments, wounds, captures, exchanges, paroles, honors, and place of death and interment.
In addition to its main component, the biographies, the volume also includes a number of essays, tables, and synopses designed to clarify previously obscure matters such as the definition of grades and ranks; the difference between commissions in regular, provisional, volunteer, and militia services; the chronology of military laws and executive decisions before, during, and after the war; and the geographical breakdown of command structures. The book is illustrated with 84 new diagrams of all the insignias used throughout the war and with 129 portraits of the most important high commanders. It is the most comprehensive volume to date...name any Union or Confederate general--and it can be found in here. [T]he photos alone are worth the purchase. RATED FIVE STARS by americancivilwarhistory.org
Recommended Reading: Generals in Bronze: Interviewing the Commanders of the Civil War (Hardcover). Description: Generals in Bronze: Revealing interviews with the commanders of the Civil War. In the decades that followed the American Civil War, Artist James E. Kelly (1855-1933) conducted in-depth interviews with over forty Union Generals in an effort to accurately portray them in their greatest moment of glory. Kelly explained: "I had always felt a great lack of certain personal details. I made up my mind to ask from living officers every question I would have asked Washington or his generals had they posed for me, such as: What they considered the principal incidents in their career and particulars about costumes and surroundings." Continued below…
During one interview session with Gen. Joshua Lawrence Chamberlain, Kelly asked about the charge at Fort Damnation. Gen. Chamberlain acquiesced, but then added, "I don't see how you can show this in a picture." "Just tell me the facts," Kelly responded, "and I'll attend to the picture." And by recording those stirring facts, Kelly left us not only his wonderful art, but a truly unique picture of the lives of the great figures of the American Civil War. About the Author: William B. Styple has edited, co-authored, and authored several works on the Civil War. His book: "The Little Bugler" won the Young Readers' Award from the Civil War Round Table of New York. He is currently writing the biography of Gen. Phil Kearny.