What Happened to Site Meter, aka Sitemeter?
Is Site Meter Dead?
What Happened to Site Meter?
10 August 2015
Site Meter Counter and Statistics Tracker News
Site Meter, commonly known as Sitemeter after its domain sitemeter.com, was an Alexa Top 1,000 site that provided website stats for millions of users since the late 90s, but that halted abruptly for both paid and free subscribers in late 2014 -- without notice. While the easy to use stat meter was popular with businesses and blogs by providing snapshot or real time stats for sites, it went completely dead forcing its free and paid subscribers scrambling for answers and new site trackers. "It was bad enough that the meter code went invisible and defunct on all of my sites many months ago," said one website master, "but to not give us notice while also closing its customer support was the worst of practices."
"Just because sitemeter.com is still running, don't confuse it with its Site Meter which has been offline since November 2015. The late Site Meter was known in its final years for hosting malicious malware to redirecting blogs and sites to some of its unscrupulous sponsors."
Sitemeter.com once offered premium plans ranging from $6.95 to $199.95 monthly, but its doubtful that anyone this side of a coma is still paying for the abandoned Site Meter. Its address, sitemeter.com, has slipped from its once impressive Alexa Top 1,000 status to a more modest Top 20,000, but, since its website states that its revenue is derived largely from ads, its sponsors, we believe that is reason enough to keep, at least for now, its sputtering business site open for traffic - albeit not business.
Is Site Meter dead?
Courtesy sitemeter.com
"This privacy policy was last revised on January 22, 2015." Sitemeter.com
What is puzzling is that sitemeter.com remains online while its Site Meter service has been offline since November 2015. Every single page on its website sitemeter.com is working -- except the contact page -- which points to management intentionally misleading the public. Site Meter even has blogs and announcement pages (no updates since 2008), and yet not a shred of news on what is now several months into its nonfunctioning site tracker.
The Site Meter privacy statement was updated on 22 January 2015, giving the impression that the tracker is functioning -- but it is not. We have tried to contact sitemeter.com using its contact form no less than 25 times from January 2015 to August 2015, but it remains down, broken. Login has been attempted at least 100 times since December 2015, but each time we read the following, "The Site Meter database for your account is currently unavailable. Please wait a few minutes and try again." We even attempted on two different dates to open another account, but never received the confirmation or code. And whereas sitemeter.com states that our site is down, all meters on all sites are actually down, so I went looking for answers.
No phone number, no contact form, no email address, no Site Meter -- so I went looking for answers.
How do you cancel your Site Meter membership since its contact and email addresses no longer work? Perhaps by cancelling your credit card, according to one "madder than hell" with sitemeter.com's paid service.
The Site Meter page for news and announcements shows nothing about closure and all of its pages are full of ads (which is how it makes money according to the site), so perhaps as long as they are generating income the site itself will continue running. I surfed the internet on both Google and Bing in search of answers for the Site Meter mystery, but was initially left with more questions than answers. While Site Meter refuses to say what is now obvious -- the site is dead -- many personal websites and blogs continue to speculate from simple server outages to Google Analytics causing the once giant sitemeter.com to flounder and fail.
While the Site Meter website itself is not experiencing a series of outages from its once touted dedicated servers, sitemeter.com is active in what is a poor attempt to drive users and visitors to search its site, thus forcing the unfortunate and unsuspecting visitor to navigate large annoying banner ads and outright redirects to more third party spam and virus infested sites.
What is (was) Site Meter?
According to sitemeter.com its Site Meter is a free, fast, and easy way to add a web counter to your web page. Not only can it display the number of visitors to your web site, it also keeps statistics on the number of visits each hour and every day. It also provides detailed information about these visitors. These statistics are provided in real time so they are always up-to-date.
Site Meter Can Provide the Answers! Site Meter's comprehensive real time website tracking and counter tools give you instant access to vital information and data about your sites audience. With our detailed reporting you'll have a clear picture of who is visiting your site, how they found you, where they came from, what interests them and much more. Sitemeter.com 10 August 2015.
Is Sitemeter.com dead?
Where is Site Meter?
Site Meter traffic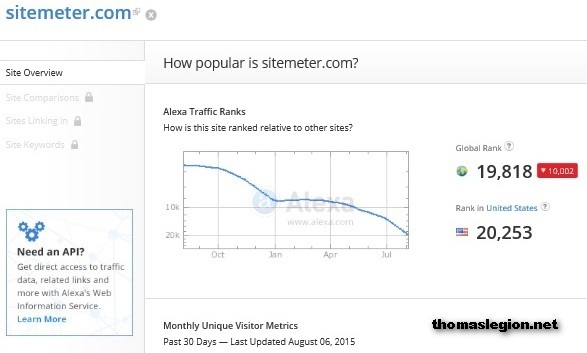 Site Meter traffic report provided courtesy alexa.com
"Site Meter now hosts a gradual slide in visitors since it went to the boneyard in November, but perhaps it was not soon enough for many unsuspecting sites and blogs that got blacklisted by Google for hosting malware and adware."
Site Meter is now a huge failure
The Site Meter -- a few years prior to its final exhale -- had developed a reputation for hosting viruses as well as the failure to respond to emails from even its paid members.
"The stat Site Meter was okay but never great," said one user, "but I did enjoy a snapshot of my stats over the last 20 minute timeframe."
"We tried for six months to contact Site Meter but the contact form is down," said anonymous.
"Counting visitors is one thing, but no free site counter is ever worth losing customers over. Site Meter allegedly stole customers and potential sales with its malware redirects -- and that is unconscionable."
"Site Meter added hidden intrusive audio ads, so I bailed out a long time ago," responded Mary of Florida.
From 2004 we had used the meter with okay results, but since 2009 it started delaying our log in to the site with huge ads, spamming, popups, and annoying as hell, lengthy click through banner ads to even redirecting us to third party sites. During its last leg, the visitor count was also showing wild counts of from 200,000 visitors down to 0 visitors per day -- so we shelved the tracker for good. We understand that Site Meter is a business and that means advertising, but its latest practices led to numerous complaints and accelerated the company's demise.
What is a good alternative to Site Meter?
With Site Meter premium plans ranging from $6.95 to $199.95 monthly, plus ad clicks, impressions, etc., on its website, how did the company fail? We believe that the answer rests in the question -- they charged. Why pay when Google Analytics is much better and free. We have already adjusted to using Google Analytics, which provides free real time results and is constantly being updated by the best minds in tech world. May the bones of Site Meter finally be laid to rest.
Sitemeter.com
You could visit sitemeter.com, but I strongly discourage you from doing so, unless you wish to challenge your firewall and antivirus programs. Sitemeter.com was unavailable for comment -- imagine that -- but could it be that they are simply with Elvis on some long fishing trip. If not, would someone please turn out the lights. Adios Site Meter.