General Alfred Jackson
Brigadier General A. E. Jackson
Alfred Eugene Jackson
Introduction
Alfred Eugene Jackson (January 11, 1807–October 30, 1889) was a Confederate brigadier general during the American Civil War (1861–1865). Before the war, he was a farmer, produce wholesaler, miller, manufacturer and transporter of goods by wagon and boat. After the war, he was a tenant farmer in Virginia until he regained some of his property in Tennessee.
American Civil War
Alfred Eugene Jackson was born on January 11, 1807, in Davidson County, Tennessee, and attended Washington College and Greeneville College, now Tusculum College. After college he became a farmer and merchant of produce and manufactured wares, and distributed those goods from North Carolina to the Mississippi River through an extensive transportation network of wagons and boats that he established.
Alfred Eugene Jackson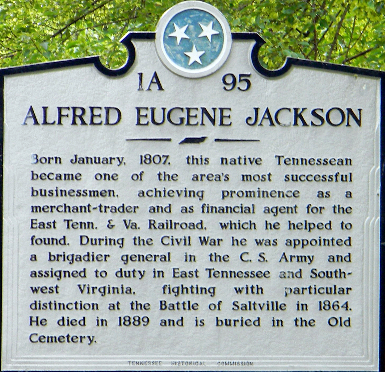 Alfred E. Jackson
Alfred E. Jackson began his Confederate service as a major on September 11, 1861, and by applying his experience, he served as quartermaster on the staff of Brigadier General Felix Zollicoffer—until his death at the Battle of Mill Springs. Jackson then served as a paymaster at Knoxville,
Tennessee
, under the command of Major General E. Kirby Smith. Jackson's original appointment to brigadier general on October 29, 1862, was canceled, but he was promoted to the rank on February 9, 1863.
After his promotion to brigadier, Alfred Jackson was given command of a brigade in the Confederate Department of East Tennessee in April 1863, where his brigade fought in several skirmishes, pursued deserters, raided into eastern Kentucky and southwestern Virginia and fought Union loyalists and bushwackers. Jackson tasted his only victory of note by capturing 300 soldiers of the 100th Ohio Infantry at Limestone, Tennessee, on September 8, 1863.
The unit was assigned to Major General Robert Ransom Jr's. division between October 1863 and February 1864, Brigadier General Bushrod R. Johnson's division in February and March 1864, and Major General Simon Buckner's division in April and May 1864, all in the Confederate Trans-Allegheny Department. General Braxton Bragg criticized Jackson in a May 1864 report because his men were in "miserable order."
Jackson and his men spent most of the war fighting guerrilla actions and numerous skirmishes in
East Tennessee
, eastern
Kentucky
, southwestern
Virginia
and
western North Carolina
. They supported Brigadier General John S. Williams in his retreat after the Battle of Blue Springs and helped guard the winter quarters of Lieutenant General James Longstreet's corps at Knoxville during their detachment to the western theater of the war. They also fought engagements with Union Major General Ambrose Burnside's men along the
East Tennessee and Virginia Railroad
.
General Alfred Jackson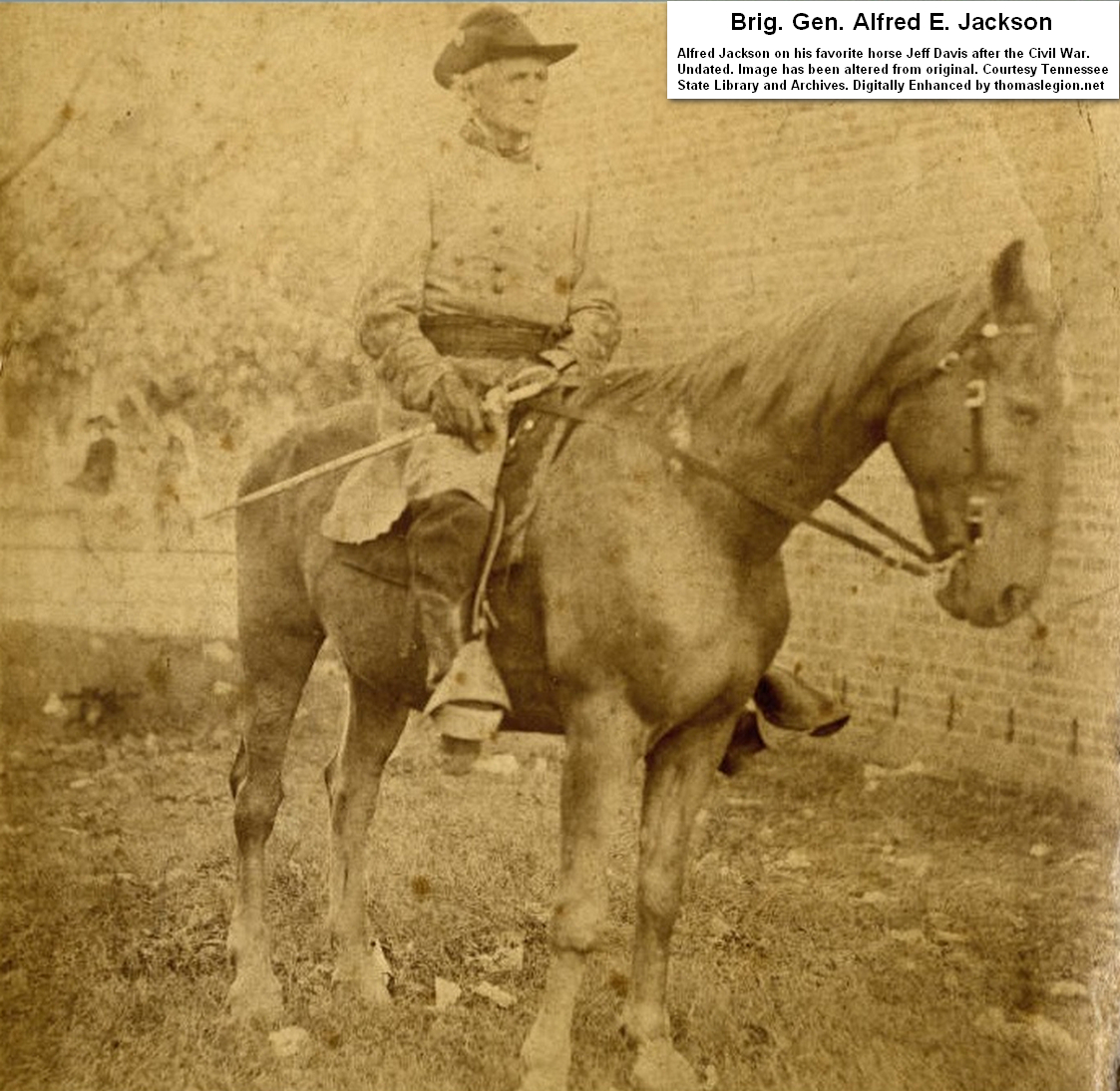 General Alfred Jackson on his favorite horse Jeff Davis after 1865.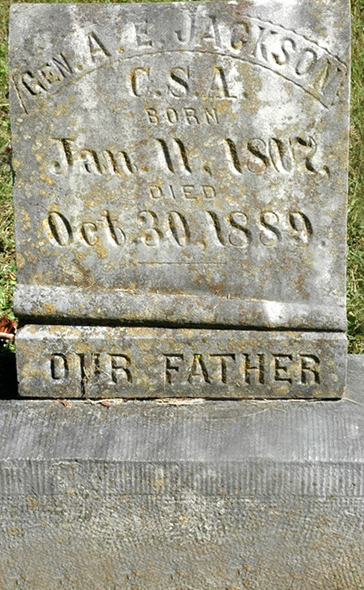 Brig. Gen. Alfred Jackson Gravesite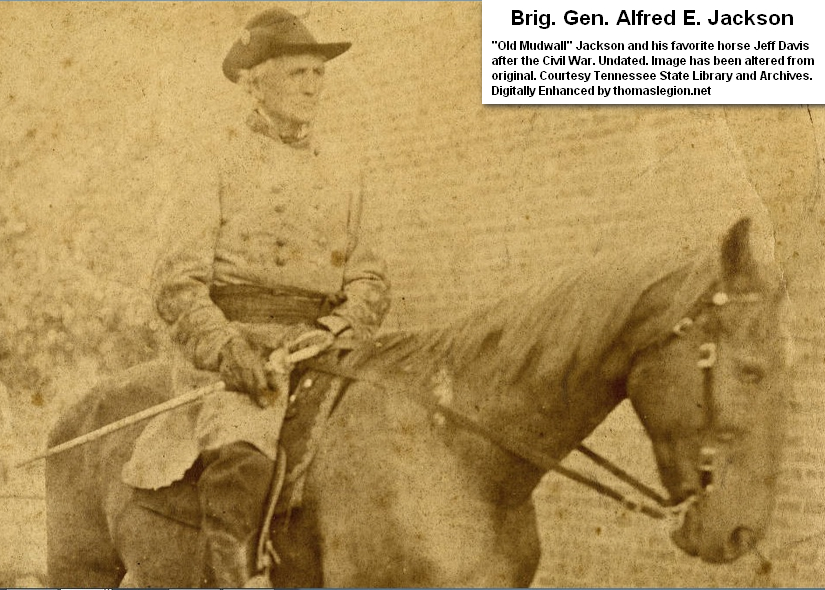 Alfred Jackson and his best equine Jeff Davis
(About) Albumen print of Alfred Eugene Jackson. Undated. Post Civil War image of Brig. Gen. Jackson astride his favorite horse Jeff Davis. The Confederate brigadier was rather fond of this mount and included ole Davis in his will. If Jackson should precede the handsome steed in death, Jeff Davis shall remain on the farm where he is to be later buried. When Jackson was said to be unfit for field duty and then stripped of command and reassigned to light duty on Breckinridge's staff, it was none other than the other Jeff Davis who would approve the reassignment of the aged Tennessean. Image has been altered from the original. This rare photo is courtesy Tennessee State Library and Archives.
Jackson's brigade was ordered to assist in the defense of Saltville, Virginia, in the Confederate Department of East Tennessee and West Virginia, successor to the Trans-Allegheny Department from September 30, 1864. With the Confederates pushed out of Knoxville in December 1863, Jackson would assume temporary command of the Rebel forces at Saltville, VA, during the first fight over the prized salt production facilities on October 2, 1864. With a numerically superior Federal command marching toward Saltville, Jackson led the troops as they prepared fortifications and rifle pits.
The 57-year old Jackson was in poor health and reassigned within the same department to light staff duty under Major General John C. Breckinridge on November 23, 1864, but although his health had failed, Jackson would live another 25 years and become the eldest resident of Jonesborough.
Post Civil War

After the war, Jackson, now impoverished, rented land in Washington County, Virginia. President Andrew Johnson, a fellow Tennessean, granted Jackson, along with many former Confederates, a special pardon on November 16, 1865. Jackson had also shown kindness to Johnson's family in East Tennessee during the war. After the pardon, Jackson gradually regained a portion of his property in Jonesboro, Tennessee, where he died, aged 82, and was buried on October 30, 1889.
General Alfred Jackson
Tennessee Railroads and the Civil War
Brig. Gen. Alfred E. Jackson
Brig. Gen. Alfred Jackson had the responsibility of defending the East Tennessee railroads.
Analysis
Brigadier General Jackson would command his brigade during numerous skirmishes and battles, including the fights at Mill Springs, Telford Station, Limestone Depot, Blue Springs, Henderson's Mill, Carter's Depot, and he prepared the defenses while the massive Union army approached and then opened the First Battle of Saltville. Given little attention, historically, Jackson was tasked with defending the crown jewel known as the East Tennessee and Virginia Railroad, the sole line connecting Virginia and Tennessee, and without it, the Confederacy was unable to rapidly shift the desperately needed armies and equipment between theaters of war. Well-versed in transportation and logistics, Jackson, underappreciated, knew the strategic importance of the track, and with a scarcely a force, he made every effort to defend it.
Thinning ranks and poorly equipped soldiers, known by Richmond for their desertions and low morale, would form Jackson's brigade. The unit would continually test Jackson. Although some soldiers from his command routinely leveled at him charges of poor generalship and being unfit to command, the Tennessean, who had never served a day in the military prior to the conflict, was determined to fight the enemy for the duration of the war, regardless.
And as accusations were hurled at Jackson, it took a reassignment from headquarters to remove him from the battlefield. Many a good men would have easily and eagerly requested a transfer out of and away from such a unit, but again, Jackson, said to be a man of diseased nerves by some, settled for staff duty as he remained faithful to the cause which had initially compelled him to join and serve the Confederacy.
Whereas the aged brigadier was burdened with a command that was in "miserable condition," according to Bragg, these two words perhaps said more about the men that Jackson commanded than it did about anyone else.
Sources: Official Records of the Union and Confederate Armies; Boatner, Mark Mayo, III. The Civil War Dictionary. New York: McKay, 1988. ISBN 0-8129-1726-X. First published New York, McKay, 1959; Eicher, John H., and David J. Eicher. Civil War High Commands. Stanford, CA: Stanford University Press, 2001. ISBN 0-8047-3641-3; Sifakis, Stewart. Who Was Who in the Civil War. New York: Facts On File, 1988. ISBN 0-8160-1055-2; Stanchak, John E. "Jackson, Alfred Eugene" in Historical Times Illustrated History of the Civil War, edited by Patricia L. Faust. New York: Harper & Row, 1986. ISBN 978-0-06-273116-6; Warner, Ezra J. Generals in Gray: Lives of the Confederate Commanders. Baton Rouge: Louisiana State University Press, 1959. ISBN 0-8071-0823-5.