Application
Jackson's Valley Campaign
was Confederate Maj. Gen. Thomas J. "Stonewall" Jackson's famous spring 1862 campaign through the Shenandoah Valley in Virginia during the American Civil War. Employing audacity and rapid, unpredictable movements on interior lines, Jackson's 17,000 men marched 646 miles in 48 days and won several minor battles as they successfully engaged three Union armies (52,000 men), preventing them from reinforcing the Union offensive against Richmond.
Jackson suffered his only defeat (his sole defeat of the war) at the First Battle of Kernstown (March 23, 1862) against Col. Nathan Kimball (part of Union Maj. Gen. Nathaniel P. Banks's army), but it proved to be a strategic Confederate victory because President Abraham Lincoln reinforced his Valley forces with troops that had originally been designated for the Peninsula Campaign against Richmond. On May 8, after more than a month of skirmishing with Banks, Jackson moved deceptively to the west of the Valley and drove back elements of Maj. Gen. John C. Frémont's army in the Battle of McDowell, preventing a potential combination of the two Union armies against him. Jackson then headed down the Valley once again to confront Banks. Concealing his movement in the Luray Valley, Jackson joined forces with Maj. Gen. Richard S. Ewell and captured the Federal garrison at Front Royal on May 23, causing Banks to retreat to the north. On May 25, in the First Battle of Winchester, Jackson defeated Banks and pursued him until the Union Army crossed the Potomac River into Maryland.
Bringing in Union reinforcements from eastern Virginia, Brig. Gen. James Shields recaptured Front Royal and planned to link up with Frémont in Strasburg. Jackson was now threatened by three small Union armies. Withdrawing up the Valley from Winchester, Jackson was pursued by Frémont and Shields. On June 8, Ewell defeated Frémont in the Battle of Cross Keys and on the following day, crossed the North River to join forces with Jackson to defeat Shields in the Battle of Port Republic, bringing the campaign to a close.
Jackson followed up his successful campaign by forced marches to join Gen. Robert E. Lee for the Seven Days Battles outside Richmond. His audacious campaign elevated him to the position of the most famous general in the Confederacy (until this reputation was later supplanted by Lee) and has been studied ever since by military organizations around the world.
Civil War military service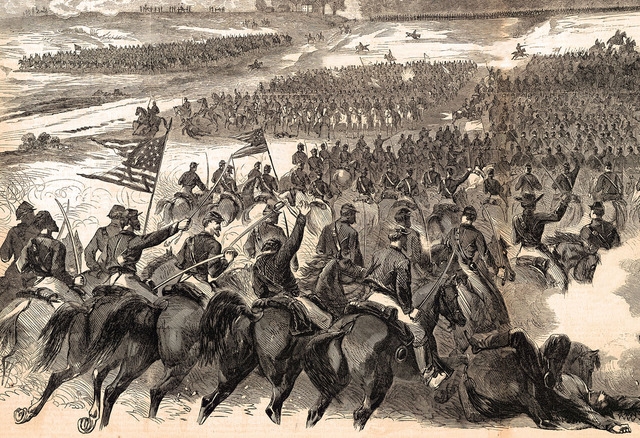 Singular objective of the infantryman, artillerist, and cavalryman was to fight a battle and win
Strategy, Tactics, and Innovations
The Civil War caused 620,000 killed, and it forced the United States military to reexamine its stiff, outdated tactics and strategies that had led to the carnage. The U.S. Military Academy, U.S. Naval Academy, and other military schools would adapt, improvise, and overcome to meet the present and future challenges of war. After all, numerous inventions and innovations were a result of the Civil War. The arts of tactics and strategy were revolutionized by the many developments introduced during the 1860s. Thus the Civil War ushered in a new era in warfare with the: FIRST practical machine gun, FIRST repeating rifle used in combat, FIRST use of the railroads as a major means of transporting troops and supplies, FIRST mobile siege artillery mounted on rail cars, FIRST extensive use of trenches and field fortifications, FIRST large-scale use of land mines, known as "subterranean shells", FIRST naval mines or "torpedoes", FIRST ironclad ships engaged in combat, FIRST multi-manned submarine, FIRST organized and systematic care of the wounded on the battlefield, FIRST widespread use of rails for hospital trains, FIRST organized military signal service, FIRST visual signaling by flag and torch during combat, FIRST use of portable telegraph units on the battlefield; FIRST military reconnaissance from a manned balloon, FIRST draft in the United States, FIRST organized use of Negro troops in combat, FIRST voting in the field for a national election by servicemen, FIRST income tax—levied to finance the war, FIRST photograph taken in combat, FIRST Medal of Honor awarded an American soldier. See also
Civil War Comparison of North and South, Union and Confederacy
.
See also
Source: Boatner III, Mark M. The Civil War Dictionary; Allen, William. Stonewall Jackson's Valley Campaign: From November 4, 1861 to June 17, 1862. New York: Smithmark Publishers, 1995. ISBN 0-8317-1432-8; Emberton, Keith D. Operational Leadership Once Beyond the Culminating Point: Perspectives on Calculated Tactical Risk to Achieve Operational Success. Alexandria, VA: Joint Military Operations Department, United States Naval War College, 1996. OCLC 38196522; Hotchkiss, Jedediah. Make Me a Map of the Valley: The Civil War Journal of Stonewall Jackson's Topographer. Edited by Archie P. MacDonald. Dallas: Southern Methodist University Press, 1988. ISBN 0-87074-270-1; Miller, William J. Mapping for Stonewall: The Civil War Service of Jed Hotchkiss. Washington, DC: Elliott & Clark Publishing, 1993. ISBN 1-880216-11-6; Tanner, Robert G. Stonewall in the Valley: Thomas J. "Stonewall" Jackson's Shenandoah Valley Campaign, Spring 1862. Garden City, NY: Doubleday, 1976. ISBN 978-0-385-12148-4; map courtesy PBS.org; Gettysburg National Military Park.
Return to American Civil War Homepage