Battle of Chancellorsville, Virginia
Battle of Chancellorsville ranked 5th in total casualties of the Civil War
Civil War battles in Virginia for 1863
Map showing Battle of Chancellorsville, Virginia
Summary
The
Chancellorsville Campaign
, April-May 1863, is known as Confederate General Robert E. Lee's greatest victory. The campaign consisted of the following engagements: Battle of Chancellorsville, Second Battle of Fredericksburg, Battle of Salem Church, and Stoneman's 1863 Raid.
The Battle of Chancellorsville was a major battle of the American Civil War, and the principal engagement of the Chancellorsville Campaign. As a major battle of the Civil War, Chancellorsville is also listed as one of the
Ten Bloodiest and Costliest American Civil War Battles
. It was fought from April 30 to May 6, 1863, in Spotsylvania County, Virginia, near the village of Chancellorsville. Two related battles were fought nearby on May 3 in the vicinity of Fredericksburg. The campaign pitted Union Army Maj. Gen. Joseph Hooker's Army of the Potomac against an army less than half its size, Gen. Robert E. Lee's Confederate Army of Northern Virginia. Chancellorsville is known as Lee's "perfect battle" because his risky decision to divide his army in the presence of a much larger enemy force resulted in a significant Confederate victory. The victory, a product of Lee's audacity and Hooker's timid decision making, was tempered by heavy casualties and the mortal wounding of Lt. Gen. Thomas J. "Stonewall" Jackson to friendly fire, a loss that Lee likened to "losing my right arm."

The Chancellorsville Campaign began with the crossing of the Rappahannock River by the Union army on the morning of April 27, 1863. Union cavalry under Maj. Gen. George Stoneman began a long distance raid against Lee's supply lines at about the same time. This operation was completely ineffectual. Crossing the Rapidan River via Germanna and Ely's Fords, the Federal infantry concentrated near Chancellorsville on April 30. Combined with the Union force facing Fredericksburg, Hooker planned a double envelopment, attacking Lee from both his front and rear.

On May 1, Hooker advanced from Chancellorsville toward Lee, but the Confederate general split his army in the face of superior numbers, leaving a small force at Fredericksburg to deter Maj. Gen. John Sedgwick from advancing, while he attacked Hooker's advance with about 4/5ths of his army. Despite the objections of his subordinates, Hooker withdrew his men to the defensive lines around Chancellorsville, ceding the initiative to Lee. On May 2, Lee divided his army again, sending Stonewall Jackson's entire corps on a flanking march that routed the Union XI Corps. While performing a personal reconnaissance in advance of his line, Jackson was wounded by fire from his own men, and Maj. Gen. J.E.B. Stuart temporarily replaced him as corps commander.

The fiercest fighting of the battle—and the second bloodiest day of the Civil War—occurred on May 3 as Lee launched multiple attacks against the Union position at Chancellorsville, resulting in heavy losses on both sides. That same day, Sedgwick advanced across the Rappahannock River, defeated the small Confederate force at Marye's Heights in the Second Battle of Fredericksburg and then moved to the west. The Confederates fought a successful delaying action at the Battle of Salem Church and by May 4 had driven back Sedgwick's men to Banks's Ford, surrounding them on three sides. Sedgwick withdrew across the ford early on May 5, and Hooker withdrew the remainder of his army across U.S. Ford the night of May 5–6. The campaign ended on May 7 when Stoneman's cavalry reached Union lines east of Richmond.
The Union cavalry under Brig. Gen. George Stoneman, after a week of ineffectual raiding in central and southern Virginia in which they failed to attack any of the objectives Hooker established, withdrew into Union lines east of Richmond—the peninsula north of the York River, across from Yorktown—on May 7, ending the campaign.
Chancellorsville Campaign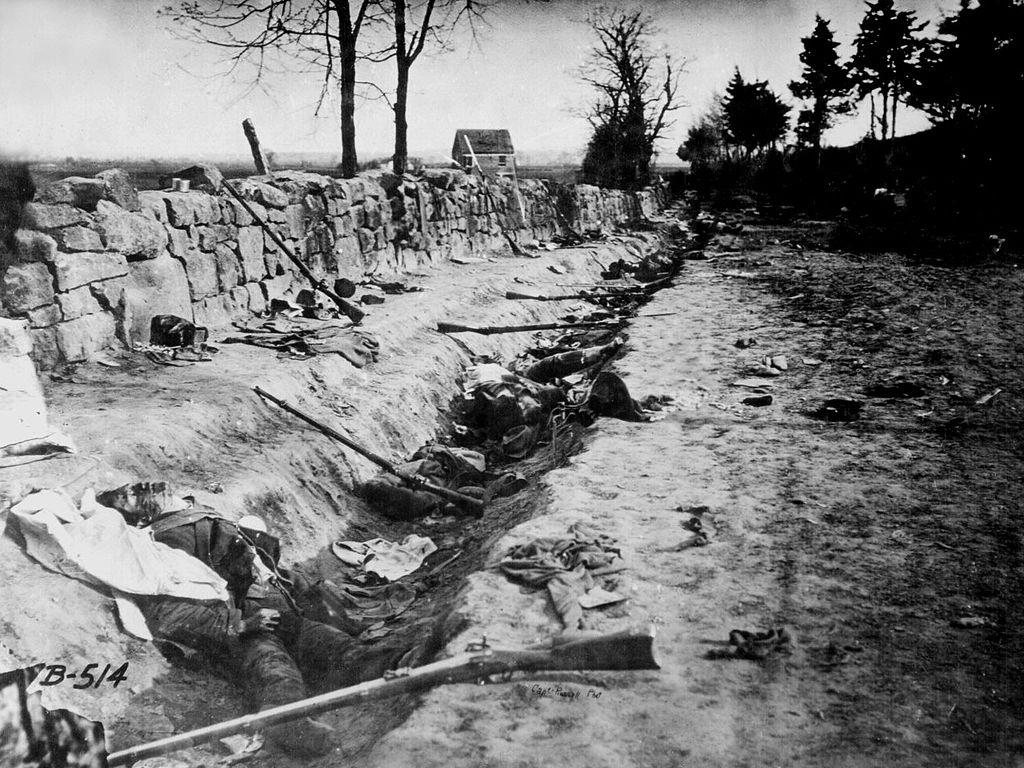 Confederate dead during Chancellorsville Campaign
(About the Photograph) Confederate dead behind the stone wall of Marye's Heights, Fredericksburg, Virginia, killed during the Chancellorsville Campaign (the Second Battle of Fredericksburg), May 1863. Photograph by A.J. Russell. Library of Congress.
Lee, despite being outnumbered by a ratio of over two to one, won arguably his greatest victory of the war, sometimes described as his "perfect battle." But he paid a terrible price for it. With only 60,000 men engaged, he suffered 13,303 casualties* (1,665 killed, 9,081 wounded, 2,018 missing), losing some 22% of his force in the campaign—men that the Confederacy, with its limited manpower, could not replace. Just as seriously, he lost his most aggressive field commander, Stonewall Jackson. Brig. Gen. Elisha F. Paxton was the other Confederate general killed during the battle. After Longstreet rejoined the main army, he was highly critical of Lee's strategy, saying that battles like Chancellorsville cost the Confederacy more men than it could afford to lose.

Of the 133,000 Union men engaged, 17,197 were casualties* (1,606 killed, 9,672 wounded, 5,919 missing), a percentage much lower than Lee's, particularly considering that it includes 4,000 men of the XI Corps who were captured on May 2. When comparing only the killed and wounded, there were almost no differences between the Confederate and Federal losses at Chancellorsville. The Union lost three generals in the campaign: Maj. Gens. Hiram G. Berry and Amiel W. Whipple and Brig. Gen. Edmund Kirby.
"My God! It is horrible—horrible; and to think of it, 130,000 magnificent soldiers so cut to pieces by less than 60,000 half-starved ragamuffins!" Horace Greeley, New York Tribune
*Includes the battles of Marye's Heights and Salem Church.
Civil War Chancellorsville Campaign Map
1863 Virginia Civil War Map of Battles
Sources: National Park Service; National Archives; Library of Congress; Official Records of the Union and Confederate Armies.
Return to American Civil War Homepage