Thomas' Legion
American Civil War HOMEPAGE
American Civil War
Causes of the Civil War : What Caused the Civil War
Organization of Union and Confederate Armies: Infantry, Cavalry, Artillery
Civil War Navy: Union Navy and Confederate Navy
American Civil War: The Soldier's Life
Civil War Turning Points
American Civil War: Casualties, Battles and Battlefields
Civil War Casualties, Fatalities & Statistics
Civil War Generals
American Civil War Desertion and Deserters: Union and Confederate
Civil War Prisoner of War: Union and Confederate Prison History
Civil War Reconstruction Era and Aftermath
American Civil War Genealogy and Research
Civil War
American Civil War Pictures - Photographs
African Americans and American Civil War History
American Civil War Store
American Civil War Polls
NORTH CAROLINA HISTORY
North Carolina Civil War History
North Carolina American Civil War Statistics, Battles, History
North Carolina Civil War History and Battles
North Carolina Civil War Regiments and Battles
North Carolina Coast: American Civil War
HISTORY OF WESTERN NORTH CAROLINA
Western North Carolina and the American Civil War
Western North Carolina: Civil War Troops, Regiments, Units
North Carolina: American Civil War Photos
Cherokee Chief William Holland Thomas
HISTORY OF THE CHEROKEE INDIANS
Cherokee Indian Heritage, History, Culture, Customs, Ceremonies, and Religion
Cherokee Indians: American Civil War
History of the Eastern Band of Cherokee Indian Nation
Cherokee War Rituals, Culture, Festivals, Government, and Beliefs
Researching your Cherokee Heritage
Civil War Diary, Memoirs, Letters, and Newspapers

Abraham Lincoln Assassination: President Abraham Lincoln Shot!
President Abraham Lincoln Assassination, History, Biography
President Abraham Lincoln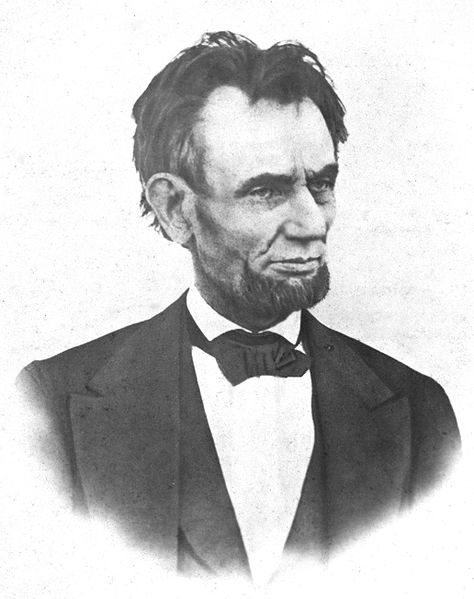 (March 6, 1865)
(The last known high-quality photograph of President Abraham Lincoln. Taken on the balcony at the White House, March 6, 1865. Library of Congress.)
Recommended Viewing. Abraham Lincoln-His Life & Legacy (2009) (A&E) (4 DVDs) (516 minutes). Description: Join HISTORY in a celebration of our nation's sixteenth president. This comprehensive four-DVD set presents a complex portrait of a man who many consider to be our greatest commander-in-chief, but who considered himself "the loneliest man in the world." Bringing to life the tumultuous times in which Lincoln led his country, some of his finest Civil War moments, and his final hours, HISTORY examines the Lincoln legacy in a modern context. Continued below…
ABRAHAM LINCOLN: HIS LIFE AND LEGACY is the ultimate tribute to the ultimate president and includes the following seven documentaries:
* Lincoln
* Investigating History: Lincoln: Man or Myth
* Man, Moment, Machine: Lincoln and the Flying Spying Machine
* Conspiracy?: Lincoln Assassination
* High Tech Lincoln
* Sherman's March
* The Hunt for John Wilkes Booth
* Includes seven documentaries: Lincoln, Investigating History: Lincoln Man or Myth, Man Moment Machine: Lincoln and the Flying Spying Machine, Sherman's March, The Hunt for John Wilkes Booth, Conspiracy? Lincoln Assassination, High Tech Lincoln
* History in the Making: Lincoln: behind-the-scenes featurette
* Full-length documentary: Sherman's Total War Tactics
* History in the Making: Sherman's Total War: behind-the-scenes featurette
Recommended Viewing: American Experience - Abraham and Mary Lincoln: A House Divided (PBS) (3 DVDs) (360 minutes). Description: From award-winning film-maker David Grubin, this miniseries weaves together the troubled lives of a dirt-farmer's son and a wealthy Southern slave-owner's daughter. Together, Abraham and Mary Lincoln ascended to the pinnacle of power at the most difficult time in the nation's history, the Civil War. Abraham Lincoln's legacy as the Great Emancipator reshaped the nation while his tragic death left Mary reclusive and forgotten. Continued below…
Review: This documentary on the life of Abraham Lincoln is an excellent exploration of the character and inner life of our 16th president. At the same time it provides the viewer with much valuable information about the character of his wife, Mary Todd Lincoln, their marriage, the tragic deaths of two of their children, and how Lincoln continued to love his wife until his death, even though she was in many ways a liability for him. While the Lincolns as individuals are the focus of the series, the viewer is not shortchanged in regard to the presidency or the Civil War. Lincoln's growth during his four years in office is examined critically and fairly by various historians.
The story of the Lincolns was originally shown on PBS's program "American Experience," and follows the format that has made that series so respected by viewers. Photographs, drawings, paintings, maps, and other artifacts contemporary to the times alternate with new film footage that enhances the story line. Well known performers do the voiceovers -- in this case David Morse is Lincoln, and Holly Hunter is the voice of Mary Todd Lincoln. There are no stagey recreations of events with unknown performers taking the parts of historical characters, which one often sees in series made for The History Channel or Arts and Entertainment Network. The three volume set runs about six hours and contains bonus materials that appear on each individual disc. The quality of the picture and sound is outstanding. The music is excellent and of the time period, and is never distracting.
While people of all ages and backgrounds in American history could enjoy this series, I especially recommend it to families with high school or college age students, along with Ken Burns "The Civil War" and the PBS video biography of General Grant. This would also make an excellent gift for Father's Day or for a Civil War buff's birthday.
Recommended Viewing:
Gore Vidal's Lincoln
(DVD) (188 minutes). Description: Sam Waterston (Abraham Lincoln) and Mary Tyler Moore (Nary Todd Lincoln) both deliver five star performances and perhaps the most balanced insight into the nation's 16th family.
Lincoln
was a politician. He never set out to free the slaves. He actually offered leading free Blacks the opportunity to take the slaves to a new American colony in
South America
because he never thought ex-slaves would have a chance. There was corruption in his Administration. Continued below…
First Lady Mary Todd Lincoln probably sold the text of the "State of the Union" address to the New York Times. She also kept 'ghost' employees on the White House payroll to pay for her extravagances in remodeling. Still, Lincoln was a good man and a good leader, grieved at the state of America. Sam Waterston depicts a man heavily laden with the burdens of a country, constituency, and family that could be enough to break a lesser person's resolve. Mary Tyler Moore's performance as Mary Todd Lincoln was also good. No one will ever know whether it was mental illness, addiction to morphine, or some other cause that drove her to 'headaches' and spendthrift behavior. Tyler Moore's presentation was of Todd-Lincoln was troubled---and human. If you only purchase one DVD about the Lincolns, purchase this one.
Recommended Viewing: Biography: Abraham Lincoln - Preserving the Union
(A&E) (DVD) (100 minutes). Description: This edition of Biography, the long-running documentary series from A&E, explores the life of the 16th President of the
U.S.
, Abraham Lincoln.
Lincoln
was born near
Hodgenville
,
Kentucky
, and was eventually elected to the
Illinois
legislature in 1834. He became a lawyer in 1836. A decade later, he was elected to a single term in Congress, where he spoke against the extension of slavery, became a Republican in 1856, and in 1860 was elected president on a platform of hostility toward slavery's expansion. Continued below…
When the Civil War began in 1861, he defined the issue in terms of national integrity, not anti-slavery, a theme he restated in the Gettysburg Address of 1863. Nonetheless, the same year, he proclaimed freedom for all slaves in areas of rebellion. He was re-elected in 1864, and after the final Northern victory, he intended to reunite the former warring parties on the easiest possible terms; but on April 14, 1865, he was shot at Ford's Theatre, Washington, by an actor, John Wilkes Booth, and died next morning. He is remembered for his considerable political skills, and his self-education and broad vision have come to be a symbol of American democracy. Lincoln's life and political career are documented using historic photographs, personal letters and interviews with historians. ~ John Patrick Sheehan, All Movie Guide
Recommended Viewing: Lincoln: The Untold Stories (A&E) (DVD). Description: When Lincoln died, his former law partner William Herndon talked to over 250 friends for a now forgotten biography. Using his original papers, Douglas Wilson and Rodney Davis published Herndon's Informants 130 years later. Drawing on this rich new source, we paint an intimate portrait of Lincoln drawn from fact not myth.
Recommended Viewing: American Experience: The Assassination of Abraham Lincoln (2009) (PBS) (DVD) (120 minutes). Description: A highlight of the nationwide Lincoln Bicentennial celebration is this unprecedented two-hour documentary on the life and legacy of the man widely considered one of our best - and most enigmatic - presidents. Continued below...
It addresses many of the controversies surrounding Lincoln about race, equality, religion, politics, and depression by carefully interpreting evidence from those who knew him and those who study him today. "As the title depicts, in this one-of-a-kind documentary, it discusses the events which led to the assassination of a president in his prime."
Recommended Viewing: The Hunt for John Wilkes Booth (History Channel) (2007) (DVD). Description: For 12 days in April 1865, as terror gripped the nation, thousands of federal troops, detectives, and police scoured the country in search of the assassin who shot President Abraham Lincoln. Continued below…
THE HISTORY CHANNEL tells the compelling story behind the conspiracy to decapitate the government by assassinating Lincoln, his Vice President and his Secretary of State, and the manhunt that ensued. THE HUNT FOR JOHN WILKES BOOTH takes viewers through the Maryland countryside, across the Potomac River, and finally into northern Virginia as Booth and co-conspirator David Herold elude their captors. Often fictionalized, this is the true story of this harrowing time, gleaned from news reports, trial transcripts, and a diary kept by the man who pulled the trigger--John Wilkes Booth. Shot in riveting real-time style along Booth and Herold s 60-mile escape route, THE HUNT FOR JOHN WILKES BOOTH follows the trail of one of America s earliest assassins--a man who changed history.
Recommended Viewing: Stealing Lincoln's Body (2009) (A&E) (DVD). Description: One of the strangest, most intriguing, and yet almost unknown episodes in American history unfolded in 1876, eleven years after the assassination of Abraham Lincoln. A band of Chicago counterfeiters hatched a plot to steal the President's body from its tomb outside Springfield, Illinois, and hold it for a ransom of $200,000. A paid informant told the newly formed Secret Service. Continued below…
Abraham Lincoln in Casket (Rare Photograph)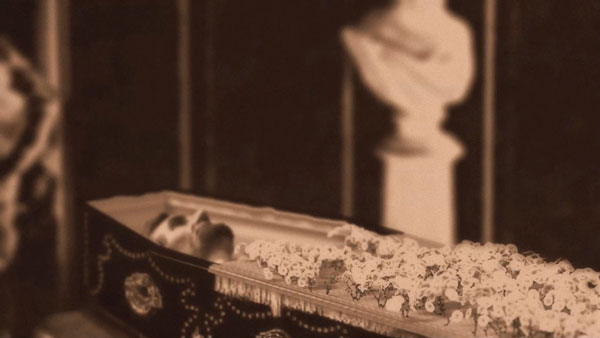 "Stealing Lincoln's Body" (Still Shot) (Untouched)
When both the police and the criminals showed up at the cemetery on the appointed night, the scheme was foiled. This feature-length special from History explores the peculiar confluence of historical trends and cultural movements that prompted the crime: the birth of counterfeiting, the growth of embalming, and the influence of secret societies in American life, among others. But above all, the story shows how important this beloved President remained to a public so unprepared for his violent death in 1865. Startling and informative, this is one of those tales you have to see to believe.
Recommended Viewing: Lincoln at Gettysburg - The Battle and The Address (2009). Description: LINCOLN AT GETTYSBURG: The Battle and the Message This award-winning DVD brings to life not only Lincolns famous speech, but also the major events leading up to the Civil War, a comprehensive background on Lincolns life and a summary of the Gettysburg Battle itself. The Battle of Gettysburg was a turning point in the American Civil War as well as the small crossroads town of Gettysburg, Pennsylvania. Because the three day battle left over 51,000 casualties in its wake, many of the soldiers who died in Gettysburg had to be buried there. Continued below…
Therefore, a new national cemetery was established and a dedication ceremony was planned. Edward Everett, a renowned orator, was scheduled to give the keynote address. President Lincoln was also asked to make a speech, but his reputation for being too witty or frivolous at solemn occasions made officials wary. Fearing the worst, they asked him to make a few appropriate remarks! Beginning with the familiar phrase Four score and seven years ago... those few remarks came to be known as one of the most famous and most quoted speeches in American history The Gettysburg Address, given by Lincoln in just two minutes on the afternoon of Thursday, November 19, 1863 at the dedication of the Soldiers National Cemetery at Gettysburg. This award-winning DVD brings to life not only Lincoln s famous speech, but also the major events leading up to the Civil War, a short background on Lincoln s life and a brief summary of the battle itself. Also included are two bonus sections featuring a present day re-enactment tribute to the Battle plus a rare historical reenactment film featuring Lincoln delivering the Gettysburg Address and a discussion of his speech made by local community members. This DVD is a must for any Civil War buff, historian or teacher to own.
"The agony, heartbreak and human drama of a battle which changed history's course are displayed in this production which illustrates the strategy, tactics and importance of the Civil War battle at Gettysburg, Pennsylvania...the camera excitingly and imaginatively recreates the battle itself and the fear, elation and despair of those involved. Highly Recommended!" --- Landers Film Review
Recommended Viewing. The American Civil War (DVD Megaset) (2009) (A&E Television Networks-The History Channel) (14 DVDs) (1697 minutes) (28 Hours 17 Minutes + extras). Experience for yourself the historical and personal impact of the Civil War in a way that only HISTORY can present in this moving megaset™, filled with over 28 hours of American Civil War content (includes over 3 hours dedicated to Abraham Lincoln). This MEGASET is the most comprehensive American Civil War compilation to date and is the mother of all Civil War documentaries. A multifaceted look at "The War Between the States," this definitive collection brings the most legendary Civil War battles, and the soldiers and leaders who fought them, vividly to life. From Gettysburg and Antietam to Shiloh, and led by the likes of Sherman, McClellan, Grant, Beauregard, Lee, Davis, and Jackson, delve into the full military and political contexts of these men, their armies, and the clashes between them. Continued below...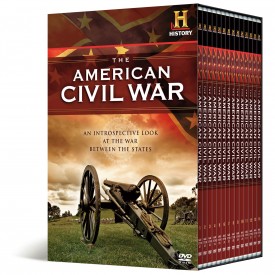 Almost 150 years after Lee's surrender at Appomattox Court House, the unexpected secrets and little-known stories from Civil War history are divulged with fascinating detail. Cutting-edge CGI and accurate dramatizations illustrate archival letters and original diary entries, and the country's most renowned historians describe the less familiar incidents that add perspective and depth to the war that divided a nation. If the DVDs in this Megaset were purchased separately, it could cost hundreds of dollars. This one-of-a-kind compilation belongs on the shelf of every Civil War buff, and if you know anyone that is interested in the most costliest and bloodiest war in American history, buy this, they will love it.
THE AMERICAN CIVIL WAR contains the following programs:
* The Most Daring Mission Of The Civil War
* April 1865
* Battlefield Detectives: The Civil War (3 Episodes): Antietam, Gettysburg, Shiloh
* Secret Missions Of The Civil War
* The Lost Battle Of The Civil War
* Tales Of The Gun: Guns Of The Civil War
* Eighty Acres Of Hell
* Lincoln
* Investigating History: Lincoln: Man Or Myth
* Man, Moment, Machine: Lincoln & The Flying, Spying Machine
* Conspiracy?: Lincoln Assassination
* High Tech Lincoln
* Sherman's March
* The Hunt For John Wilkes Booth
* Civil War Combat (4 Episodes): The Hornets' Nest At Shiloh, The Bloody Lane At Antietam, The Wheatfield At Gettysburg, The Tragedy At Cold Harbor
* Civil War Journal (8 Episodes): John Brown's War, Destiny At Fort Sumter, The Battle of 1st Bull Run, The 54th Massachusetts, West Point Classmates—Civil War Enemies, Robert E. Lee, Stonewall Jackson, Sherman And The March To The Sea
BONUS FEATURES:
* Full-Length Documentary "Save Our History: Sherman's Total War Tactics"
* Behind the Scenes Featurettes for "Sherman's March" and "Lincoln"
Related Viewing:
The Civil War - A Film by Ken Burns
. Review:
The Civil War - A Film by Ken Burns is the most successful public-television miniseries in American history.
The 11-hour
Civil War didn't just captivate a nation, reteaching to us our history in narrative terms; it actually also invented a new film language taken from its creator. When people describe documentaries using the "Ken Burns approach," its style is understood: voice-over narrators reading letters and documents dramatically and stating the writer's name at their conclusion, fresh live footage of places juxtaposed with still images (photographs, paintings, maps, prints), anecdotal interviews, and romantic musical scores taken from the era he depicts. Continued below...
The Civil War uses all of these devices to evoke atmosphere and resurrect an event that many knew only from stale history books. While Burns is a historian, a researcher, and a documentarian, he's above all a gifted storyteller, and it's his narrative powers that give this chronicle its beauty, overwhelming emotion, and devastating horror. Using the words of old letters, eloquently read by a variety of celebrities, the stories of historians like Shelby Foote and rare, stained photos, Burns allows us not only to relearn and finally understand our history, but also to feel and experience it. "Hailed as a film masterpiece and landmark in historical storytelling." "[S]hould be a requirement for every student."