3rd North Carolina Mounted Infantry Regiment, U.S.
A.K.A. Union 3rd North Carolina Mounted Infantry Regiment; 3rd North Carolina (Federal) Mounted Infantry Regiment; 3rd North Carolina Mounted Infantry Regiment, U.S.A.; 3rd North Carolina Mounted, United States; and Kirk's Raiders.
Kirk's Raiders and the Civil War History

North and South contend for control of East Tennessee as the fate of Western North Carolina looms
Introduction
Western North Carolina and East Tennessee were well-known hotbeds infested with deserters who banded as bushwhackers, similar to wild dogs which are eventually led by the Alpha male, and as salt may be forced into an open wound, the region hemorrhaged as a result of both Union and Confederate armies engaging in pitched battle, and their respective guerrilla units fighting their proxy war. It would later be known as tactics of Total War by some, but to those living in the era it was known generally as hell has hatched its demons and our mountain community had its own nest. The Confederate 64th North Carolina was responsible for the
Shelton Laurel Massacre
in Madison County in 1863, which was justified by the murderers as retribution against known raiders and bushwhackers for their dastardly deeds, but Kirk's Raiders however, eventually responded in kind with the murdering of 20 men of Waynesville in February 1865.
The Union 3rd North Carolina Mounted Infantry was a mounted regiment that served in the Union Army during the Civil War (1861-1865), and Unionists of North Carolina and Tennessee formed the nucleus of the regiment, but its ranks also included Confederate deserters and some volunteers from other Southern states.
The 3rd N,C. Mounted Infantry, under the command of Colonel George Washington Kirk, was known by Northerners as a mounted regiment of Loyalists, but in the South the unit was associated with monikers such as Home Yankees, bushwhackers, Kirk's Raiders, and even marauding murderers.
From June, 1864 until February, 1865, the 3rd N.C. Mounted Regiment was attached to the 2nd Brigade, 4th Division, 23rd Army Corps, Department of Ohio. From March, 1865 until August, 1865 the regiment was attached to the 2nd Brigade, 4th Division, District East Tennessee, Department of the Cumberland.
Union 3rd North Carolina Mounted Infantry
Kirk's Raiders on how to plunder and pillage a Southern city
Formation in February 1864
The 3rd North Carolina Mounted Infantry was formed by Special Order Number 44, on February 13, 1864, when Major General John Schofield ordered Major George W. Kirk [Union 2nd NCMI] to raise 200 men to "... descend upon the rear of the rebel army under [Gen. James] Longstreet and destroy as much as possible of his stores and means of transportation ... [Y]ou will move along the railroad into Virginia, damaging the road as much as possible by burning bridges, trestle-work, water tanks, cars, etc., and by tearing up the track ..."
Duty
Scout and patrol duty in proximity of Knoxville, Tenn., and in
East Tennessee
till December 1864. Scout from Morristown, Tenn., into North Carolina June 13-July 15, 1864.
Camp Vance
on June 28. Russellville, Tenn. on October 28. Big Pigeon River on November 5-6. Moved to Paint Rock on December 7. Expedition into
Western North Carolina
March 21-April 25, 1865. Moved to Boone, N.C., April 6, and to Asheville, N.C., April 27-30. Duty in North Carolina and East Tennessee till August 1865. Mustered out August 8, 1865.
Western North Carolina Bushwhackers
Western North Carolina and the Proxy War Map
3rd North Carolina, aka Kirk's Raiders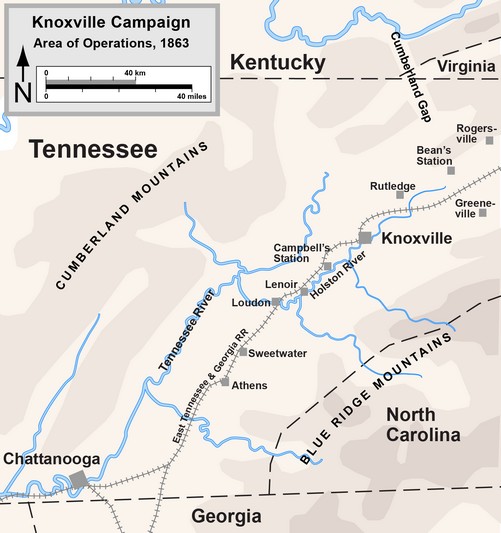 Map of East Tennessee Civil War Battles
North Carolina Civil War Era Railroads
3rd North Carolina Union Mounted Infantry Attack Western North Carolina
Battles
Colonel George Washington Kirk (Major, promoted Lieutenant Colonel on September 20, 1864; Colonel effective March 14, 1865), having successfully commanded the Union 2nd NCMI and at the request of Maj. Gen. Schofield, offered his services to recruit and command the Union 3rd Mounted Infantry. Continuing to recruit for the duration of the war, the 3rd recruited 960 effectives and suffered at least 16 killed and 23 captured. Total losses remain unknown but are believed to be considerably higher, because absent were reports of deaths from disease and the total wounded.
"Swarms of [North Carolina] men liable to conscription are gone to the tories or to the Yankees." Brigadier General J. W. McElroy, First Brigade North Carolina Home Guard, April 12, 1864
Raid on Camp Vance on June 13, 1864
Camp Vance, near Morganton, North Carolina, was a training camp for Confederate conscripts. The 3rd NCMI easily captured the camp, but did not achieve its primary mission to destroy the railroad bridge over the Yadkin River north of Salisbury, North Carolina.

In September 1864 the regiment saw brief action at Bulls Gap, and in December 1864 it skirmished at Battle of Red Banks of Chucky.
Map of East Tennessee Civil War Battlefields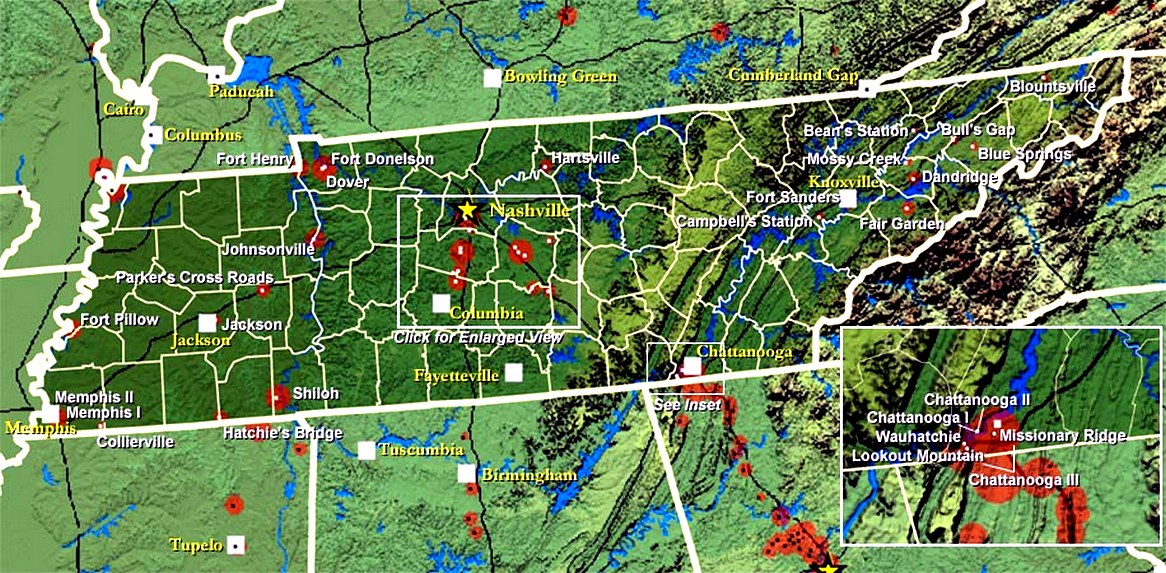 High Resolution Map of East Tennessee Civil War Map of Battles
Lt. David Cook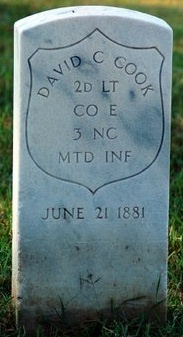 Courtesy Michael C. Hardy
(Right) Lt. David Cook, Company E, 3rd NC Mounted Infantry,
USA
. Author and historian Michael C. Hardy (michaelchardy.blogspot.com) states: "This might be the same David Cook who served as a private in Company B,
37th North Carolina Troops
." Lt. David Cook is interred at the
National
Cemetery
in
Knoxville, Tennessee
.
Raid on Waynesville on February 4, 1865
Following is the inscription from the North Carolina Civil Wars Trail Marker that can be found in Maggie Valley, Haywood County, North Carolina - "On February 1, 1865, Col. George Kirk, 2nd North Carolina Mounted Infantry (U.S.), left Newport, Tennessee, with 400 cavalry and 200 infantry for a raid into Haywood County. He passed through the mountains at Mount Sterling, following the Cataloochee Turnpike up Jonathan Creek Valley to Waynesville. While in the valley, his men killed former Confederates Absolom B. Carver and James E. Rice. Kirk and his raiders also burned the home of Young Bennett in Cataloochee and then burned a school that served as a makeshift hospital for ailing Confederate soldiers.
Kirk reached Waynesville on February 4 and sacked the town, ordering his men to burn the home of Revolutionary War hero Colonel Robert Love. The raiders also opened the Waynesville jail, liberated its prisoners (mostly local Unionists confined by Confederate authorities), and destroyed the building. After wreaking havoc on the village of Waynesville, Kirk marched his troops toward Tennessee and camped at Balsam Gap, where a small contingent of Home Guards and farmers attacked the raiders. Kirk retreated first to Waynesville and then to Soco Gap. As Kirk approached Soco Gap, Lt. Robert T. Conley's sharpshooters of Thomas's Legion attacked. Kirk ordered a swift retreat to Balsam Gap, where the Federals escaped into Tennessee less than a week after the raid began".
In support of Major General George H. Stoneman's order to disrupt railroads in Southwest Virginia and North Carolina, Kirk and his men were assigned to hold Deep and Watauga Gaps near Boone, North Carolina. This was necessary to keep the mountain roads open for Stoneman's men when their mission was complete.
Mustering Out in August 1865
The regiment served the United States honorably and assisted in suppressing the late rebellion in the Southern states, and was therefore mustered out on August 8, 1865.
North Carolina Civil War Map of Battlefields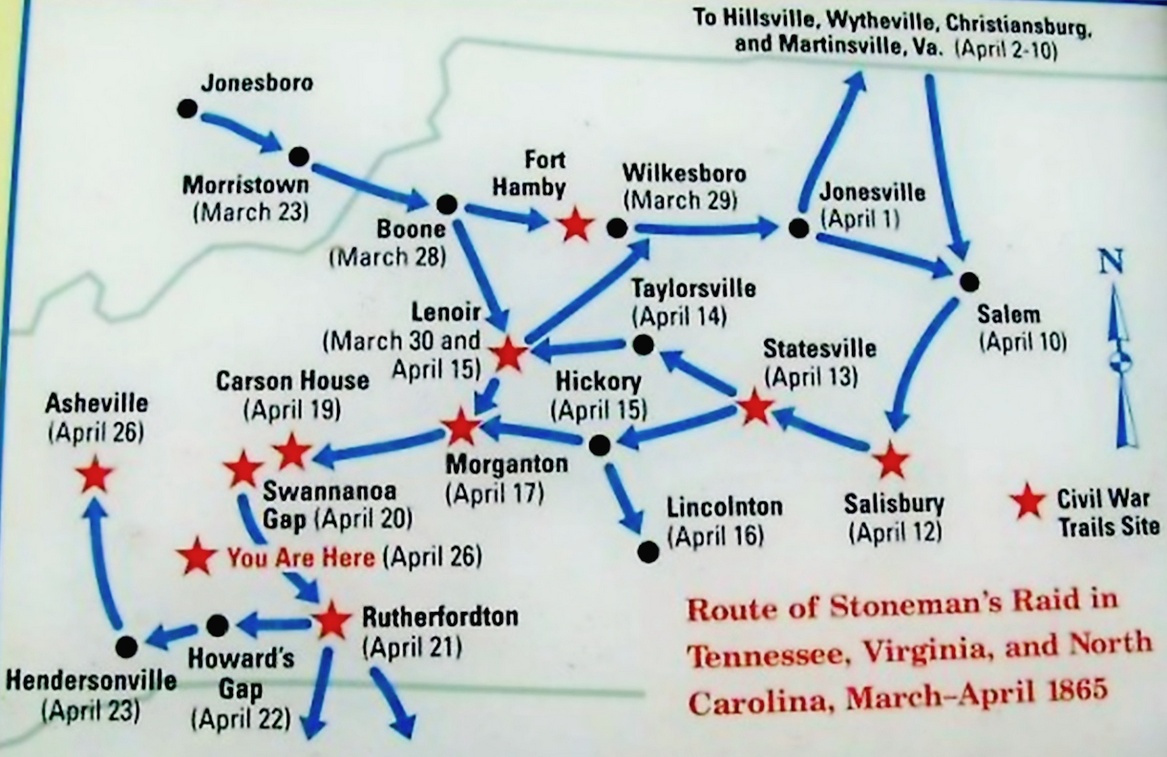 Union 3rd North Carolina support Stoneman's Raid during Civil War with Route of Battles
Organization of Union Mounted Regiments of North Carolina
The two Federal mounted regiments recruited in North Carolina, the State's only western units serving the Union, were the 2nd and 3rd North Carolina Union Mounted Infantry, and they were organized in October 1863 and June 1864, respectively, and headquartered in Knoxville, Tennessee.
The Union Army recruited two mounted infantry regiments,
2nd North Carolina Mounted Infantry
and
3rd NCMI
, within
North Carolina, and
both units were raised principally from Western North Carolina counties. Although the men of the 3rd NCMI were recruited from both Western North Carolina and East Tennessee, Confederate deserters would form a fraction of this unit. The two Federal regiments epitomized the Brother's War because the units would eventually trek and fight in the home towns of many of its soldiers. While there were other monikers for both regiments, such as Home Yankees and tories, after the Loyalists who had sided with the British during the Revolution, the nucleus of the units were stocked with loyal Union men.
Union Major General George Stoneman's command in 1865: Second North Carolina Mounted Infantry Regiment, Lieut. Colonel William C. Bartlett; Third North Carolina Mounted Infantry Regiment, Colonel George W. Kirk; First Brigade, Commanding Colonel Chauncey G. Hawley; Fourth Division, Department of the Cumberland, Brig. General Davis Tillson; District of East Tennessee, Major General George Stoneman. To view entire Union District of East Tennessee, including 1st and 2nd Brigades, and Brig. Gen. Gillem's Cavalry Division, see Stoneman's Cavalry Raid and O.R., 1, 49, pt. II, pp. 538-539*.
*Official Records of the Union and Confederate Armies
(Sources and related reading below.)
Recommended Reading: A History of the North Carolina Third Mounted Infantry Volunteers: March 1864 to August 1865. Description: A History of the North Carolina Third Mounted Infantry Volunteers: March 1864 to August 1865 - Ron V. Killian. For years preceding the Civil War, the mountain people of western North Carolina lived under very different social and economic conditions than their plantation farming counterparts in other parts of the state. The mountain people did not generally own slaves, making them reluctant to contribute soldiers when North Carolina seceded from the Union. Many of these pro-Union Carolinians took up arms as Federal troops and engaged in guerrilla raids to disrupt Confederate operations within their home state. Continued below…
The Third Mounted Infantry was one such unit, organized under Col. George Washington Kirk in February 1864. Ron V. Killian's history discusses the brief but sensational career of the Third Mounted Infantry from its inception up to the occupation of Asheville, NC in 1865. Until now, little material has been published on the role of the Third Mounted Infantry in the pacification of the Tennessee/North Carolina mountain region. Often erroneously referred to as "bushwhackers" or "Tories," the patriotic fathers, sons and brothers that composed this regiment rendered commendable service in the Camp Vance Raid, Stoneman's Raid against Confederate positions in both Tennessee and North Carolina, and various skirmishes at Morristown, Russellville, Waynesville and Asheville. Detailed accounts of engagements involving the regiment are supplemented by extensive rosters noting full name, month, year, and place of enlistment, and age at time of enlistment for officers, staff, private soldiers and musicians. A biographical sketch of Col. Kirk is also included.
Recommended Reading: The Loyal Mountaineers Of Tennessee (1888) (Hardcover: 426 pages) (Kessinger Publishing, LLC) (June 2, 2008). Description: This book defines the importance of East Tennessee and its residents to the Union cause during the Civil War. The author begins with early history of East Tennessee and the events which led to the War Between the States. He continues by describing local people and events that contributed to the decision to remain loyal to the United States. Continued below...
The events of the War as they involve East Tennessee are detailed, including important meetings and battles such as Carter's Raid and the siege of
Knoxville
. The text is enhanced with illustrated portraits of
East Tennessee
individuals who contributed to the Civil War effort. Originally written and published in 1888, this reprinted edition is accompanied by a complete index. This book is a valuable addition to both the
Tennessee
historian and the Civil War buff.
Recommended Reading:
Mountain Myth: Unionism in Western North Carolina
(Hardcover), by Terrell T. Garren. Description: Civil War historian Terrell T. Garren and author of acclaimed
The Secret of War: A Dramatic History of Civil War Crime in Western North Carolina
, delivers another masterpiece and challenges previous 'historical assumptions' regarding Unionism in Western North Carolina. Garren, who spent thousands of hours researching
Mountain Myth
, states that readers of his new book "may be surprised to learn that Western North Carolina citizens of that day were as much or more dedicated to the Confederate cause than the people of any other area in the entire South." It is RATED 5 STARS, the highest rating, by thomaslegion.net
Editor's Pick: The Secret of War: A Dramatic History of Civil War Crime in Western North Carolina, by Terrell T. Garren. Description: Civil War crime in western North Carolina is the subject of The Secret of War, by Terrell T. Garren. Based on the true-life experience of Delia Russell Youngblood, the great-grandmother of the author, the book "captures what the Civil War was like in the mountains and throughout the south." After hearing his great-grandmother's story, Garren spent nearly fifteen years researching this story in particular and the Civil War history of western North Carolina in general. It is the story of Joseph Youngblood and Delia Russell of Hoopers Creek in Henderson County, North Carolina. Continued below…
The reader will follow Joseph through his enlistment as a part of Company H, the "Cane Creek Rifles," of the 25th North Carolina Infantry Regiment to the Battle of Malvern Hill, Virginia, and to battle in Sharpsburg, Maryland, where he was captured. Taken to the Union Camp Morton in Indianapolis, Indiana, he finally escapes and makes his way down the Ohio and Mississippi rivers into Mississippi. Attempting to make his way back to North Carolina, he is in Dalton, Georgia, in May of 1864 when fourteen Confederate soldiers, including a brother, are executed for "desertion." Ultimately, being recaptured, he goes back to Camp Morton until the end of the war. Told with historical accuracy, names, battles, and places in this story are true to fact. Readers will recognize place names in Henderson, Jackson, Haywood, Cherokee, Transylvania, Clay, Macon, and Buncombe Counties in North Carolina. Family names mentioned include Fletcher, Carland, Lewis, Bishop, Bryson, Freeman, Henderson, Fowler, Whitaker, Wheeler, Summey, Russell, Barnwell, Ward, Lanning, Hammond, Garren, Youngblood, and Blake. What sets this book apart from many, however, is the story of what happened to the women left behind at home. The story reveals how the lowest criminal element found its way into the Union Army. Many mountain men motivated by greed and an awareness of the demise of Confederate authority signed up with no interest in any cause but their own. Union officers who enter the picture include Generals George Stoneman, Alavan C. Gillem, and William J. Palmer. Palmer enters the story late but emerges as a man of genuine integrity and selfless bravery opposed to and fighting this element in his own army. About the Author: Terrell T. Garren is an eighth generation western North Carolinian. He was born in Asheville, North Carolina, in 1951. He earned his B.S. and M.A. degrees from Western Carolina University in Cullowhee, North Carolina. A resident of Henderson County, North Carolina, he has been a commercial writer for twenty years.
Dr. Newton Smith of Western Carolina University says, "The Secret of War" is that rare historical novel that captures both the romance and the grit and gore of war on the home front without distorting the history. It is about time someone did the story of the Civil War in the southern mountains right."
Rob Neufeld, writing in the Asheville (NC) Citizen-Times, has said the book "is a must read" and "as a contribution to our understanding of the most disturbing passage in our history, it is indelible." He further writes, "Fiction? It really happened; and, if it hadn't, the author wouldn't be around to tell it....Although Garren has written fiction, he wants you to treat it as history. After all, at the back of his book, he provides an index."
Recommended Reading: War at Every Door: Partisan Politics and Guerrilla Violence in East Tennessee, 1860-1869. Description: One of the most divided regions of the Confederacy, East Tennessee was the site of fierce Unionist resistance to secession, Confederate rule, and the Southern war effort. It was also the scene of unrelenting 'irregular,' or guerrilla, warfare between Union and Confederate supporters, a conflict that permanently altered the region's political, economic, and social landscape. In this study, Noel Fisher examines the military and political struggle for control of East Tennessee from the secession crisis through the early years of Reconstruction, focusing particularly on the military and political significance of the region's irregular activity. Continued...
Fisher portrays in grim detail the brutality and ruthlessness employed not only by partisan bands but also by Confederate and Union troops under constant threat of guerrilla attack and government officials frustrated by unstinting dissent. He demonstrates that, generally, guerrillas were neither the romantic, daring figures of Civil War legend nor mere thieves and murderers, but rather were ordinary men and women who fought to live under a government of their choice and to drive out those who did not share their views.
Recommended Reading: North Carolinians in the Era of the Civil War and Reconstruction. Description: Although North Carolina was a "home front" state rather than a battlefield state for most of the Civil War, it was heavily involved in the Confederate war effort and experienced many conflicts as a result. North Carolinians were divided over the issue of secession, and changes in race and gender relations brought new controversy. Blacks fought for freedom, women sought greater independence, and their aspirations for change stimulated fierce resistance from more privileged groups. Republicans and Democrats fought over power during Reconstruction and for decades thereafter disagreed over the meaning of the war and Reconstruction. Continued below...
With contributions by well-known historians as well as talented younger scholars, this volume offers new insights into all the key issues of the Civil War era that played out in pronounced ways in the Tar Heel State. In nine fascinating essays composed specifically for this volume, contributors address themes such as ambivalent whites, freed blacks, the political establishment, racial hopes and fears, postwar ideology, and North Carolina women. These issues of the Civil War and Reconstruction eras were so powerful that they continue to agitate North Carolinians today.
Recommended Reading: Bushwhackers, The Civil War in North Carolina: The Mountains (338 pages). Description: Trotter's book (which could have been titled "Murder, Mayhem, and Mountain Madness") is an epic backdrop for the most horrific murdering, plundering and pillaging of the mountain communities of western North Carolina during the state's darkest hour—the American Civil War. Commonly referred to as Southern Appalachia, the North Carolina and East Tennessee mountains witnessed divided loyalties in its bushwhackers and guerrilla units. These so-called "bushwhackers" even used the conflict to settle old feuds and scores, which, in some cases, continued well after the war ended. Continued below...
Some bushwhackers were highly organized 'fighting guerrilla units' while others were a motley group of deserters and outliers, and, since most of them were residents of the region, they were familiar with the terrain and made for a "very formidable foe." In this work, Trotter does a great job on covering the many facets of the bushwhackers, including their: battles, skirmishes, raids, activities, motives, the outcome, and even the aftermath. This book is also a great source for tracing ancestors during the Civil War; a must have for the family researcher of Southern Appalachia.
Sources: National Park Service: Soldiers and Sailors System; Official Records of the Union and Confederate Armies; North Carolina Museum of History; The University of Tennessee; Bumgarner, Matthew. 2000. Kirk's Raiders; A Notorious Band of Scoundrels and Thieves. Piedmont Press, LLC; Killian, Ron V. A History of the North Carolina Third Mounted Infantry Volunteers U.S.A; March 1864 to August 1865, Heritage Books, Westminster, Maryland, 2008; Tipton, A. Christine. 2000. Civil War in the Mountains; Greasy Cove, Tennessee. Shining Mountain Publishers.