29th North Carolina Infantry Regiment
29th Infantry Regiment organized at Camp Patton, Asheville, North Carolina, in September 1861 and contained men from Cherokee, Yancey, Buncombe, Jackson, Madison, Haywood, and Mitchell counties. The unit was ordered to East Tennessee and was active in the Cumberland Gap operations. It was assigned to General Rains' and Ector's Brigade and participated in the campaigns of the Army of Tennessee from Stones River (commonly referred to as Murfreesboro) to Atlanta. The unit engaged in the defense of Vicksburg and marched with General Hood into Tennessee and ended the war at Mobile. It lost twenty-two percent of the 250 engaged at Murfreesboro. The regiment was attached to General Ector's Brigade at Chickamauga and had 110 killed, wounded, or missing. During the Atlanta Campaign, May 18 to September 5, it reported 6 killed, 58 wounded, and 87 missing. At Allatoona, thirty-nine percent of the 138 present were disabled. It surrendered in May 1865. The field officers were Colonels William B. Creasman and Robert B. Vance (brother to Governor Zebulon Baird Vance); Lieutenant Colonels Thomas F. Gardner, James M. Lowry, Bacchus S. Profitt, and William S. Walker; and Major Ezekiel H. Hampton.
North Carolina Civil War History Map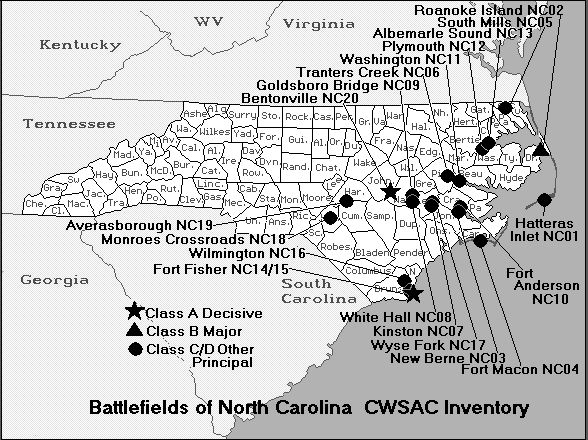 NC Civil War History Map
Advance to:
Recommended Reading: Confederate Military History Of North Carolina: North Carolina In The Civil War, 1861-1865. Description: The author, Prof. D. H. Hill, Jr., was the son of Lieutenant General Daniel Harvey Hill (North Carolina produced only two lieutenant generals and it was the second highest rank in the army) and his mother was the sister to General "Stonewall" Jackson's wife. In Confederate Military History Of North Carolina, Hill discusses North Carolina's massive task of preparing and mobilizing for the conflict; the many regiments and battalions recruited from the Old North State; as well as the state's numerous contributions during the war. Continued below...
During Hill's Tar Heel State study, the reader begins with interesting and thought-provoking statistical data regarding the 125,000 "Old North State" soldiers that fought during the course of the war and the 40,000 that perished. Hill advances with the Tar Heels to the first battle at Bethel, through numerous bloody campaigns and battles--including North Carolina's contributions at the "High Watermark" at Gettysburg--and concludes with Lee's surrender at Appomattox.
Recommended Reading: War at Every Door: Partisan Politics and Guerrilla Violence in East Tennessee, 1860-1869. Description: One of the most divided regions of the Confederacy, East Tennessee was the site of fierce Unionist resistance to secession, Confederate rule, and the Southern war effort. It was also the scene of unrelenting 'irregular,' or guerrilla, warfare between Union and Confederate supporters, a conflict that permanently altered the region's political, economic, and social landscape. In this study, Noel Fisher examines the military and political struggle for control of East Tennessee from the secession crisis through the early years of Reconstruction, focusing particularly on the military and political significance of the region's irregular activity. Continued below...
Fisher portrays in grim detail the brutality and ruthlessness employed not only by partisan bands but also by Confederate and Union troops under constant threat of guerrilla attack and government officials frustrated by unstinting dissent. He demonstrates that, generally, guerrillas were neither the romantic, daring figures of Civil War legend nor mere thieves and murderers, but rather were ordinary men and women who fought to live under a government of their choice and to drive out those who did not share their views.
Recommended Reading: North Carolinians in the Era of the Civil War and Reconstruction. Description: Although North Carolina was a "home front" state rather than a battlefield state for most of the Civil War, it was heavily involved in the Confederate war effort and experienced many conflicts as a result. North Carolinians were divided over the issue of secession, and changes in race and gender relations brought new controversy. Blacks fought for freedom, women sought greater independence, and their aspirations for change stimulated fierce resistance from more privileged groups. Republicans and Democrats fought over power during Reconstruction and for decades thereafter disagreed over the meaning of the war and Reconstruction. Continued below...
With contributions by well-known historians as well as talented younger scholars, this volume offers new insights into all the key issues of the Civil War era that played out in pronounced ways in the Tar Heel State. In nine fascinating essays composed specifically for this volume, contributors address themes such as ambivalent whites, freed blacks, the political establishment, racial hopes and fears, postwar ideology, and North Carolina women. These issues of the Civil War and Reconstruction eras were so powerful that they continue to agitate North Carolinians today.
Recommended Viewing: The Civil War - A Film by Ken Burns. Review: The Civil War - A Film by Ken Burns is the most successful public-television miniseries in American history. The 11-hour Civil War didn't just captivate a nation, reteaching to us our history in narrative terms; it actually also invented a new film language taken from its creator. When people describe documentaries using the "Ken Burns approach," its style is understood: voice-over narrators reading letters and documents dramatically and stating the writer's name at their conclusion, fresh live footage of places juxtaposed with still images (photographs, paintings, maps, prints), anecdotal interviews, and romantic musical scores taken from the era he depicts. Continued below...
The Civil War uses all of these devices to evoke atmosphere and resurrect an event that many knew only from stale history books. While Burns is a historian, a researcher, and a documentarian, he's above all a gifted storyteller, and it's his narrative powers that give this chronicle its beauty, overwhelming emotion, and devastating horror. Using the words of old letters, eloquently read by a variety of celebrities, the stories of historians like Shelby Foote and rare, stained photos, Burns allows us not only to relearn and finally understand our history, but also to feel and experience it. "Hailed as a film masterpiece and landmark in historical storytelling." "[S]hould be a requirement for every student."
Recommended Reading: The Life of Johnny Reb: The Common Soldier of the Confederacy (444 pages) (Louisiana State University Press) (Updated edition: November 2007) Description: The Life of Johnny Reb does not merely describe the battles and skirmishes fought by the Confederate foot soldier. Rather, it provides an intimate history of a soldier's daily life--the songs he sang, the foods he ate, the hopes and fears he experienced, the reasons he fought. Wiley examined countless letters, diaries, newspaper accounts, and official records to construct this frequently poignant, sometimes humorous account of the life of Johnny Reb. In a new foreword for this updated edition, Civil War expert James I. Robertson, Jr., explores the exemplary career of Bell Irvin Wiley, who championed the common folk, whom he saw as ensnared in the great conflict of the 1860s. Continued below...
About Johnny Reb:
"A Civil War classic."--Florida Historical Quarterly
"This book deserves to be on the shelf of every Civil War modeler and enthusiast."--Model Retailer
"[Wiley] has painted with skill a picture of the life of the Confederate private. . . . It is a picture that is not only by far the most complete we have ever had but perhaps the best of its kind we ever shall have."--Saturday Review of Literature
Sources: Official Records of the Union and Confederate Armies; Walter Clark, Histories of the Several Regiments and Battalions from North Carolina in the Great War 1861-1865; National Park Service: American Civil War; National Park Service: Soldiers and Sailors System; Weymouth T. Jordan and Louis H. Manarin, North Carolina Troops, 1861-1865; and D. H. Hill, Confederate Military History Of North Carolina: North Carolina In The Civil War, 1861-1865.