25th North Carolina Infantry Regiment
25th Infantry Regiment, formerly the 15th Volunteers, was assembled at Camp Patton, Asheville, North Carolina, in August 1861. The following counties furnished companies for the regiment: Henderson, Jackson, Haywood, Cherokee, Transylvania, Macon, Buncombe, and Clay. It relocated to Grahamville, South Carolina, and remained there until March 1862. The unit returned to North Carolina and then arrived in Virginia on June 24. The unit fought at Antietam and, serving in R. Ransom's and M. W. Ranson's Brigade, it fought at Malvern Hill (during the Seven Days Battles) to Fredericksburg, served in North Carolina, and then saw action at Plymouth and Drewry's Bluff. The 25th participated in the long Siege of Petersburg south of the James River and the Appomattox Campaign. It lost several soldiers in The Crater. It reported 128 casualties during the Seven Days Battles, 15 in the Maryland Campaign, 88 at Fredericksburg, and 103 at Plymouth. Many were disabled at Sailor's Creek, and on April 9, 1865, only 8 officers and 69 soldiers were present. The field officers were Colonels Thomas L. Clingman and Henry M. Rutledge; Lieutenant Colonels S. C. Bryson, St. Clair Dearing, and Matthew N. Love; and Majors John W. Francis, William S. Grady, and William Y. Morgan. Colonel Thomas Lanier Clingman, promoted to Brigadier-General, commanded Clingman's Brigade in the Army of Northern Virginia. He was an ardent lawyer and one of the most outspoken politicians of his era and his proslavery and states' rights positions climaxed with his quote to Congress: "Do us justice and we stand with you; attempt to trample on us and we separate!"
North Carolina Civil War Map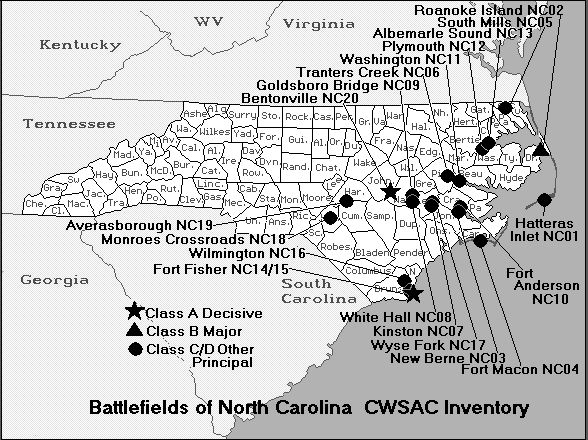 NC Civil War Battlefield Map
Recommended Reading: 25th North Carolina Infantry: History and Roster of a Mountain-bred Regiment in the Civil War (Hardcover). Description: This historical account covers the 25th Regiment North Carolina Infantry Troops during the Civil War. Farmers and their sons left the mountains to enlist with the regiment, which organized in Asheville in August 1861, to defend their home territory. Continued below...
In addition to casualty, desertion records, and a complete regimental roster, the book chronicles the unit's defensive tactics in the
Carolina
coastal regions and battlefield actions at Seven Days, Antietam,
Fredericksburg
,
Plymouth
and
Petersburg
. More than 125 historic photos, illustrations, and detailed maps are featured.
Recommended Reading: Confederate Military History Of North Carolina: North Carolina In The Civil War, 1861-1865.

Description:

The author, Prof. D. H. Hill, Jr., was the son of Lieutenant General Daniel Harvey Hill (North Carolina produced only two lieutenant generals and it was the second highest rank in the army) and his mother was the sister to General "Stonewall" Jackson's wife. In

Confederate Military History Of North Carolina

, Hill discusses North Carolina's massive task of preparing and mobilizing for the conflict; the many regiments and battalions recruited from the Old North State; as well as the state's numerous contributions during the war. Continued below...
During Hill's Tar Heel State study, the reader begins with interesting and thought-provoking statistical data regarding the 125,000 "Old North State" soldiers that fought during the course of the war and the 40,000 that perished. Hill advances with the Tar Heels to the first battle at Bethel, through numerous bloody campaigns and battles--including North Carolina's contributions at the "High Watermark" at Gettysburg--and concludes with Lee's surrender at Appomattox.
Recommended Reading: Bluecoats and Tar Heels: Soldiers and Civilians in Reconstruction North Carolina (New Directions in Southern History) (Hardcover). Description: In Bluecoats and Tar Heels: Soldiers and Civilians in Reconstruction North Carolina, Mark L. Bradley examines the complex relationship between U.S. Army soldiers and North Carolina civilians after the Civil War. Continued below...
Postwar violence and political instability led the federal government to deploy elements of the U.S. Army in the
Tar
Heel
State
, but their twelve-year occupation was marked by uneven success: it proved more adept at conciliating white ex-Confederates than at protecting the civil and political rights of black Carolinians. Bluecoats and Tar Heels is the first book to focus on the army's role as post-bellum conciliator, providing readers the opportunity to discover a rich but neglected chapter in Reconstruction history.
Recommended Viewing: The Civil War - A Film by Ken Burns. Review: The Civil War - A Film by Ken Burns is the most successful public-television miniseries in American history. The 11-hour Civil War didn't just captivate a nation, reteaching to us our history in narrative terms; it actually also invented a new film language taken from its creator. When people describe documentaries using the "Ken Burns approach," its style is understood: voice-over narrators reading letters and documents dramatically and stating the writer's name at their conclusion, fresh live footage of places juxtaposed with still images (photographs, paintings, maps, prints), anecdotal interviews, and romantic musical scores taken from the era he depicts. Continued below...
The Civil War uses all of these devices to evoke atmosphere and resurrect an event that many knew only from stale history books. While Burns is a historian, a researcher, and a documentarian, he's above all a gifted storyteller, and it's his narrative powers that give this chronicle its beauty, overwhelming emotion, and devastating horror. Using the words of old letters, eloquently read by a variety of celebrities, the stories of historians like Shelby Foote and rare, stained photos, Burns allows us not only to relearn and finally understand our history, but also to feel and experience it. "Hailed as a film masterpiece and landmark in historical storytelling." "[S]hould be a requirement for every student."
Recommended Reading: The Life of Johnny Reb: The Common Soldier of the Confederacy (444 pages) (Louisiana State University Press) (Updated edition: November 2007) Description: The Life of Johnny Reb does not merely describe the battles and skirmishes fought by the Confederate foot soldier. Rather, it provides an intimate history of a soldier's daily life--the songs he sang, the foods he ate, the hopes and fears he experienced, the reasons he fought. Wiley examined countless letters, diaries, newspaper accounts, and official records to construct this frequently poignant, sometimes humorous account of the life of Johnny Reb. In a new foreword for this updated edition, Civil War expert James I. Robertson, Jr., explores the exemplary career of Bell Irvin Wiley, who championed the common folk, whom he saw as ensnared in the great conflict of the 1860s. Continued below...
About Johnny Reb:
"A Civil War classic."--Florida Historical Quarterly
"This book deserves to be on the shelf of every Civil War modeler and enthusiast."--Model Retailer
"[Wiley] has painted with skill a picture of the life of the Confederate private. . . . It is a picture that is not only by far the most complete we have ever had but perhaps the best of its kind we ever shall have."--Saturday Review of Literature
Sources: Official Records of the Union and Confederate Armies; Walter Clark, Histories of the Several Regiments and Battalions from North Carolina in the Great War 1861-1865; National Park Service: American Civil War; National Park Service: Soldiers and Sailors System; Weymouth T. Jordan and Louis H. Manarin, North Carolina Troops, 1861-1865; D. H. Hill, Confederate Military History Of North Carolina: North Carolina In The Civil War, 1861-1865; Hunter Library, Western Carolina University.